Honey with CBD: HANI+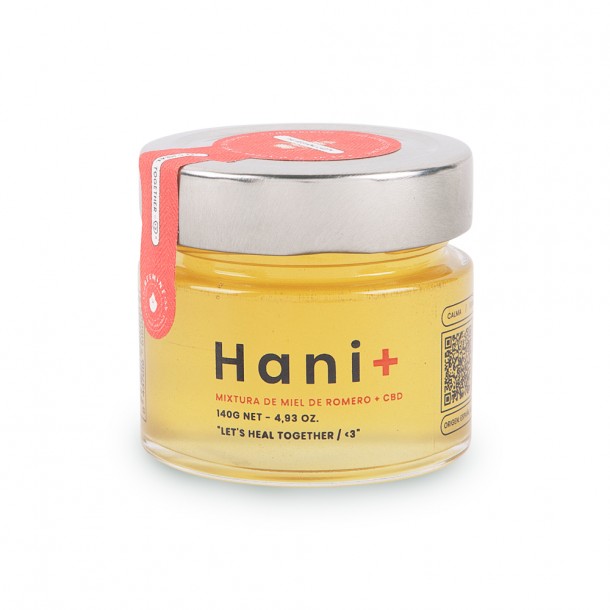 Organic rosemary honey with CBD
Ideal for skin with acne or eczema.
140g (4.93 fl OZ.)
Natural ingredients certified by the European Union.
Organic rosemary honey with 300 mg (.2%) CBD
100% natural ingredients and free of animal cruelty.
Benefits:
- Antibacterial, Antiviral and Antiseptic: Honey together with CBD eliminates bacteria, disinfects, reduces the possibility of infection and protects from viruses like herpes.
- Regulator: Regulates the production of sebum and cells. For lips, sensitive and/or atopic skin, and those affected by inflammatory afflictions such as atopic dermatitis (or eczema) and acne.
- Repairing: Provides luminosity, nutrition and relief for damaged skin. Cannabidiol extract and honey provide antioxidants and fatty acids, which are integral in the repair and regeneration of the skin. These properties are ideal to combat the effects of the sun and pollution.
- Anti-inflammatory: Honey with CBD prevents and reduces inflammation by inhibiting and blocking cyclooxygenase activity. Its anti-inflammatory properties offer non-toxic solutions for people with acne and atopic dermatitis (or eczema).
- Analgesic: Calms or eliminates pain by reducing the production of prostaglandins, responsible for the sensation of pain.
- Antioxidant: Fights free radicals, taking care of your skin from aging and pollution.
Honey with CBD is rich in antioxidants, flavonoids, vitamins, minerals, fatty acids and essential amino acids. 100% organic and free of animal cruelty. Our honey is harvested by local beekeepers who maintain artisanal methods for its extraction, respecting the well-being and balance of the hives and obtaining pure honey.

How to use it:
Use once or twice a week applying 2 tablespoons of Hani + on the face as a mask. Try Hani + alone or mixed with products at home to make homemade masks. Check our blog on Skin care with Hani+.



Ingredients:
- Rosemary honey
- Cannabidiol
- Olive Oil