CBD RECOVERY BALM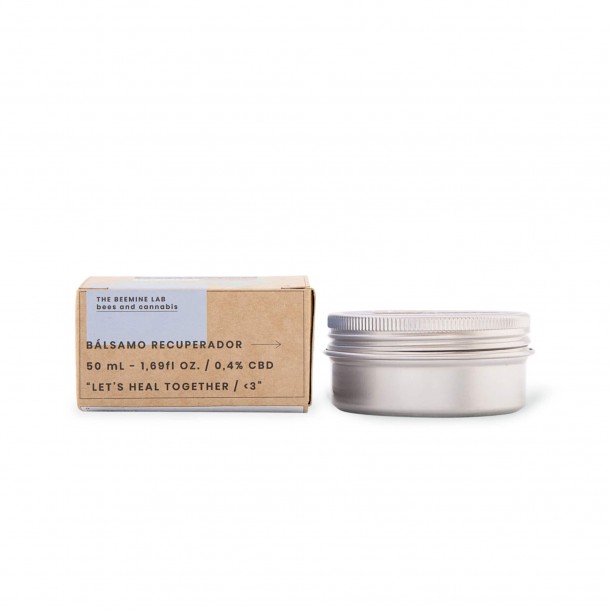 Anti-inflammatory balm with hemp seed oil
Immediate action on muscles and joints.
50ml (1.69 fl OZ.)
Natural ingredients certified by the European Union.
96,35% natural ingredients and 100% free of animal cruelty.
Benefits:
- Anti-inflammatory: Thanks to its active ingredients, the body reacts by reducing blood flow in the affected area of ??the muscle. Indicated for joint or muscle pain problems, it provides a hot-cold effect. It helps reduce muscle deterioration and the appearance of possible trauma, accelerating recovery to the optimum level. It prevents and reduces inflammation by inhibiting and blocking cyclooxygenase activity.
- Analgesic: Calms or eliminates pain by reducing the production of prostaglandins, responsible for the sensation of pain.
How to use: Apply to the desired area and spread with a gentle massage in a circular motion, to ensure complete absorption. Apply at any time of the day when you are looking to relieve muscles, joints, tendons or ligaments.
Ingredients:
- Hemp oil
- Honey
- Aceite esencial de menta
- Aceite esencial de lemongrass
- Aceite esencial de clavo
- Aceite de eucalipto
- Aceite de árnica
- Aceite de rosa mosqueta
Caution:
After application of the anti-inflammatory balm, localized redness of the skin may appear. Do not apply to sensitive skin or delicate and/or irritated areas. Do not apply close to eye area. Do not apply if pregnant. Do not apply to children under three years of age. Keep out of the reach of children.