CBD Oil Forte+ 20%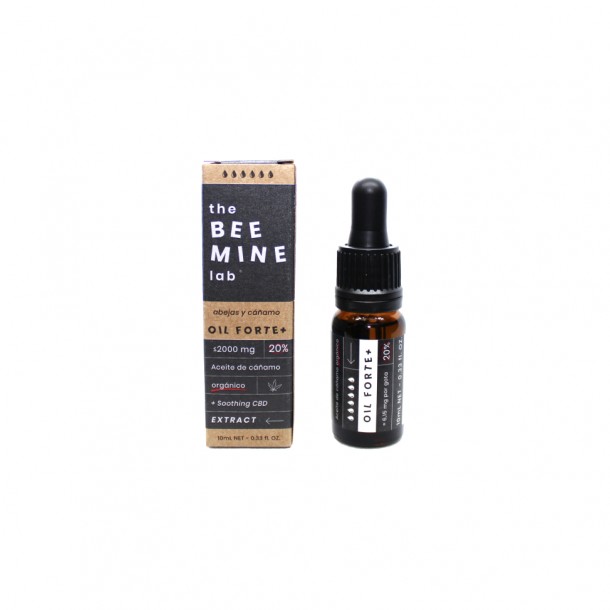 Hemp seed Oil with 20% CBD
Ideal for reducing pain. Low intensity.
10ml (0.33 fl OZ.)
Natural ingredients certified by the European Union.
Ecocert certified Hemp Seed Oil.
100% natural ingredients, vegan and free of animal cruelty.
Consulta aquí el análisis completo del Aceite de CBD 20%.

Does not contain soy!
Strong anti-inflammatory, which helps reduce pain caused by inflammation. Relieves joint and muscle pain.
Helps achieve a state of homeostasis and balance.
Reduces severe topical afflictions such as psoriasis, acne, eczema and cold sores.
Fights free radicals and eliminates bacterias, taking care of your skin and organism from aging and contamination.
Helps strengthen the immune system.
CBD Oil for skin: Moisten face and hands before applying 1 or 2 drops on hands or face. Distribute with your fingers, gently dabbing the oil on your skin. Before applying the oil, apply a water-based moisturizer, such as our CBD Hydrating Facial Cream . Ideal to use day and night.
CBD Oil for localized pain: Apply enough drops to cover the affected area and spread them with a gentle massage. Combined with the Emergency Balm our soothing and anti-inflammatory active ingredients will enhance the absorption and effect of CBD Oil.
Repeated administration of CBD Oil does not develop tolerance or dependence.
Ingredients:
- HEMP SEED OIL
- CANNABIDIOL
- SUNFLOWER OIL
- VITAMINA E (Tocopherol)